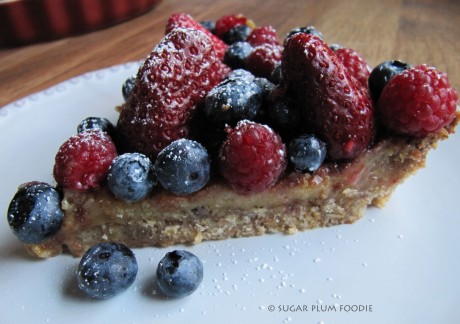 Pssst… Have you heard about CRACK PIE ™?
I guess I don't really need to whisper since the secret is already out. Chef ChristinaTosi of the famed Momofuku Milk Bar in NYC has swept the city-and now the nation with her "Crack Pie". This much buzzed about dessert is an over-the-top indulgent, gooey sugary, buttery, caramely pie that's highly addictive- hence the name, of course. Chef Tosi definitely isn't playing around with this dessert- it's even trademarked.  But not to worry-  if you don't live in NYC, now everybody can get their fix for a cool $44bucks a pie + shipping (which means another $44 for me). That's $88 smack-aroos for a pie! I mean, I guess it's cheaper than crack, right? I wouldn't know- but I don't think I have to, now that I've experienced this slice of nirvana.
Well crack pie addicts, like myself, rejoiced when the recipe finally surfaced in Bon Appetit, the LA Times, and also Tosi's new cookbook "Milk Bar". Not only could one get their sugar-fix as desired while saving at least $60/per pie, but  now home cooks could also become rockstars (or pimp cooks?) by hooking their friends.  It seemed too good to be true! Or was it?
I've often wondered if Chefs/ restaurants really tell the truth when giving up their prized recipes in magazines and cookbooks.  Do they fudge their secret recipes? Even just a little bit? Now after attempting to make Crack Pie 5 times, with several of the recipes out there, I'm convinced.  The Crack Pie recipe has been fudged.
I investigated. I scoured the web for comments and reviews by others who had attempted to re-create this.  What I found was a lot of disgruntled home cooks who were dissatisfied with the ugly and over-sugared results. Nothing like the real Crack Pie. Was it a case of "user error", ingredient/commercial kitchen differences or bad cookbook editing? So I reviewed and compared all recipe versions out there. I was surprised at my findings: different ingredient measurements, cooking times, techniques, and sometimes even a certain ingredients left out. I think Chef Tosi may had one too many slices of pie herself when sharing the recipe.
So, using all the recipes out here as a light guideline, I decided to create my own adapted version of the Crack Pie. In the end, I baked it in a larger ceramic tart pan, reduced the sugar and egg amounts, increased the baking time, and added a few more spices/ingredients to the recipe, including fresh mixed berries on top which I think counter balances richness quite nicely. And thus, the "CrackBerry Pie" was born…   And be fore-warned, this pie is just as addictive as it's sinful Crack Pie sister.  I got rave reviews when I made this for my beau last week, and it was quickly devoured. He begged for another, so I made it again on Feb. 14th,  because really, what says LOVE more than a CrackBerry Pie?  Happy Valentines Day ♥
CRACKBERRY PIE adapted from Momomufku Milk Bar's Crack Pie
A highly addictive gooey butter caramel pie topped with fresh berries...
Ingredients
OAT COOKIE

1/2 cup (1 stick= 115g) butter, room temp
1/3 cup (75 g) light brown sugar, tightly packed
3 tablespoons (40 g) white granulated sugar
1 egg yolk
1/2 cup (85 g) bread flour
1 1/2 cup (120 g) old fashioned rolled oats
1/2 cup (60 g) pecans, chopped
1/8 teaspoon (.5 g) baking powder
1/8 teaspoon (.5 g baking soda
1/4 teaspoon (1 g) cinnamon
1/4 teaspoon ( 4 g) kosher salt

COOKIE CRUST

1 tablespoon (15g) light brown sugar, tightly packed
1/4 teaspoon (1g) salt
4 tablespoons, (or 1/2 stick,= 55g) butter, melted

FILLING

1 1/4 cups (250 g) white granulated sugar
1/2 cup (95 g) light brown sugar
1/2 teaspoon (6 g) salt
1/4 cup (42 g) milk powder
1/4 cup (42 g) corn flour
1 cup (2 sticks= 225 g) butter, melted
3/4 cup (160 g) heavy cream
1 teaspoon vanilla extract
7 egg yolks
1 pint strawberries
1/2 pint each, blueberries/ raspberries
Powdered sugar, garnish

MISCELLANEOUS

standing mixer
parchment paper
plastic wrap
rolling pin
11" tart pan (I used ceramic )
Instructions
Oat Cookie:

Heat the oven to 350 degrees.
In the bowl of a stand mixer using the paddle attachment, cream the butter, brown sugar and sugar until light, fluffy, and pale yellow in color for 2-3 minutes on medium-high.
Scrape down sides of bowl and add 1 egg yolk. Beat for 1-2 minutes on medium until sugar incorporates and becomes a pale white color.
Coarsely chop the pecans. You can put them into a plastic sandwich baggie and use a rolling pin to crush. Don't worry about getting it too fine. They will end up in a food processor at a later stage.
Combine the flour, oats, pecans, baking powder, baking soda, cinnamon, and salt- and add them into your mixer on low speed until all the ingredients are just incorporated for about 30 seconds. Scrape down the sides of the bowl before mixing again for another 30 seconds.
Line a medium sized sheet pan with parchment paper and scrape dough onto sheet pan. Place a piece of plastic wrap on top and use a rolling pin to spread to 1/4 in thick. Remove plastic.
Bake for 15-16 minutes, or until edges are golden brown and the center is slightly puffed but set. Cool completely.

Assemble Cookie Crust

Break the oat cookie into chucks and place into a food processor along with melted (and cooled) butter, brown sugar and salt in a food processor. Pulse until evenly combined.
Press the crumbled mixture into an 11" tart shell to form a thin, even layer along the bottom and sides of the tins. Set the prepared crusts aside while you prepare the filling.

Filling:

Heat the oven to 350 degrees.
In the bowl of a stand mixer using the paddle attachment, mix together the sugar, brown sugar, salt, corn flour, and milk powder on low speed until evenly blended.
Add in the melted butter and continue to mix o low for another 2-3 minutes. Scrape down sides of bowl.
Add heavy cream and vanilla and mix on low for another 2-3 minutes. Scraped down sides of bowl.
Add in the egg yolks, gently paddling on low until combined for 1-2 minutes.
Pour mixture into cooled cookie crust.
Bake the pies on center rack for 20 minutes, then reduce the heat to 325 degrees and continue to bake for about 30 more minutes. Baking time will vary slightly with each tart pan and oven temp differences. The ideal doneness is a slightly jiggly filling and golden brown color.
Remove the pies and cool on a rack. When cooled, arrange mixed berries on top and garnish with a little powdered sugar on top.
The pies can be chilled in the fridge for 3 hours to be served cold, or served room temp or even slightly warm.
Dust with powdered sugar before serving.
http://www.sugarplumfoodie.com/crackberry-pie-3/