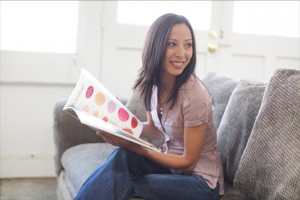 Hi, I'm Jennita Russo-
IN BRIEF
Welcome to Sugar Plum Foodie, my culinary journal/playground for all things D-lish. I'm honored to share my stories, as well as special recipes that intersect my life with culinary adventures, whether it be while globe-trotting on tour with Céline Dion, or through the trial and errors of experimenting in my kitchen. I wear a few hats: chef, choreographer, floral designer, wedding planner- and my newest, "blogger".  I live in Las Vegas, Nevada with my  2 cats, where I pretend that I don't really live in a desert and attempt year after year to grow a vegetable garden.
IN NOVEL
I like food. A lot. I mean, I'm the kind of gal that upon first meeting tends to subconsciously steer any conversation to revolve around the subject of food in 10 seconds flat and will continue on about it for the next hour- or until my poor victim escapes (or falls asleep) before then.  I'll admit that I am a cookbook addict- with over 200 books on my shelf.  I also confess to being a pack-rat of a ton of "little black books". These are my food journals where I keep a collection of musings, including recipes I've created, amazing dishes I've tried while travelling and just tid-bits of random food/wine info along the way.  Not wanting to end up on that A&E reality docu-drama TV series "Hoarders", I decided it was time to get it together and channel all my food nerdy-ness into a more useful way- and document it on the web via a cooking blog to share with you all. I guess this all deems me a "foodie".
Why "Sugar Plum" Foodie? Way back in the day, I used to be a professional ballerina,  or "bun-head" as we called it. Point shoes… tutu- wearing… Nutcracker twirling…  and rice cake dieting. The full 9 yards. Thing is, while most girls had visions of the sugar plum fairies gracefully dancing in their heads, I had heartier dreams… of bbq sliders, cookies, and fois gras fairies dancing in mine. Knowing the short career span of a dancer's life, I thought my love for food had to take a back seat. But my "dance now, eat later" plan failed. Not wanting to hang up the dancing shoes OR the kitchen apron, I realized that passions are too important to put on the back burner, so I decided to juggle all my interests and weave them into my life and make it work.  I did so by training at Le Cordon Bleu culinary school by day, and performing onstage at night.  When I went on tour around the world, I was thrilled to get the chance to explore the unique cuisine each country had to offer. I even stashed a few electric hot-pots  in my luggage to cook up homemade feasts and threw hotel room dinner parties for my fellow dancer friends. Subsequently, I also set off a few fire alarms and ruffled some security feathers along the way. I always thought someday I would start my own restaurant called "Hot Pot Café". Instead, I started Jennita Russo Events– a full service, creative event planning company that specializes in all the aspects of throwing a unique and fabulous party, including food, flowers, décor and entertainment.
Today, I continue to create both onstage and in the kitchen. I may have finally hung up the pointe shoes, but not my dancing shoes, as I still choreograph.  I've been extremely lucky to work for Celine Dion for the past 10 years.  Originally, I was a dancer in her show at Caesars Palace in Las Vegas- and currently I serve as Choreographer/Stage Manager/Stand-in for Celine (No, I do not sing. Ever.)  You can watch me in action with Céline here on You Tube. The cast and crew of the Celine's show serve as my guinea pigs for all of my new baking experiments and they don't complain about that one bit!
Thanks so much for stopping by! If you have any questions, comments, or just want to say hi, I would love to hear from you. I can always be reached at jennita.russo@yahoo.com
Cheers!
XO Jennita