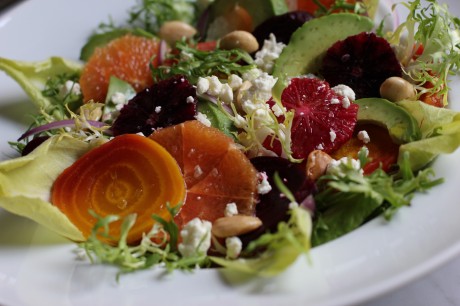 Well I had no idea that starting a culinary blog  2 weeks ago would change my daily life as much as it has so far.  Of course with the start-up of any new business or project, I guess it's normal that the amount of work needing to be done looms over you, and consumes your brain 24/7.  Me and my brain are ok with that. And I knew there would be a slight learning curve to tackle with a few of the newly acquired hobbies that go hand in hand with blogging like: a DSLR camera, Photoshop, and building a website. I never had any false expectations how this was going to be as easy as just making a yummy dish, snap a good shot, and write about it.
But what I didn't expect was the way my brain would start to take over my dreams in my sleep, with reoccurring nightmares involving exposures, apertures, ISO's, photoshop, and culinary math conversion problems.  Ugh.  Admittedly, I've been studying a TON of tutorials all day long, so it's no wonder WHY this is happening. But when it's bedtime, I would love to SHUT IT OFF. Unfortunately my brain has other plans throughout the night. And I would consider forgiving it- if like perhaps it figured it all out before I wake up. But it hasn't happed yet.  I wonder if there are any hypnotizing tutorials out on the market?  I'm a very right-side of the brain creative kind of girl, so when I'm forced to use the other side… well, it kind of hurts.
Cooking comes very natural to me and it's always been a therapeutic experience in my life. (The same goes for "shopping"). Since that left side needs an attitude adjustment,  I figured the best thing I could do right now is use a little "therapy".  Today I woke up with a new attitude and decided to stop reading and start practicing.  A morning yoga class helped me get centered and on the right path. That was followed by a trip to the grocery store, where I gathered ingredients for a light and healthy salad. Beautiful citrus fruits caught my eye, along with some bright colored beets and I decided to design a salad that, as well as being delicious, would also be visually stunning to practice my photography skills.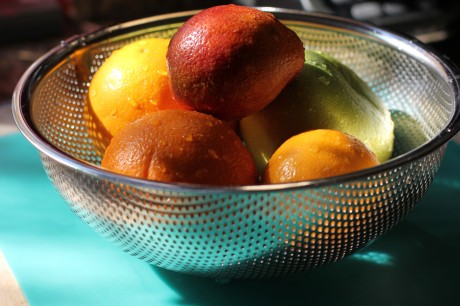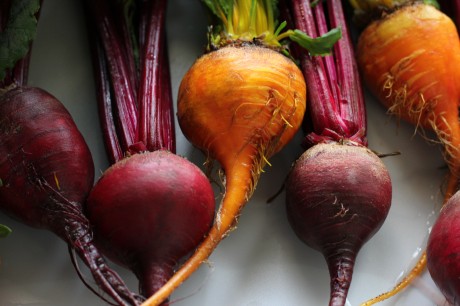 I love the different ingredient textures and the balance of contrasting flavor profiles in a dish. They really play off one another. In this salad, the earthy, silkiness of the beets pair up nicely with the crisp and juiciness of the citrus fruits. The bitterness of the frisee and endive bring out the sweetness in the grapefruit. The avocado and the feta cheese add a creamy mouth –feel, that contrasts with the nutty and salty roasted marcona almonds. I chose a simple citrus red wine vinaigrette that wouldn't mask any of the ingredient flavors. A refreshing, and nourishing lunch that was also picture perfect (beginners' luck most likely) and almost too pretty to eat.  Almost….
 CITRUS BEET & AVOCADO SALAD w/ RED WINE VINAIGRETTE
Citrus Beet & Avocado Salad
Ingredients
CITRUS BEET & AVOCADO SALAD W/ RED WINE VINAIGRETTE

Salad:

2 handfuls, frisee lettuce ( the curly, spikey kind)
4- 6 small beets, (red & golden), rinsed, and stems trimmed
2 cloves garlic, unpeeled
3 sprigs thyme
1 ripe avocado, pittted, and sliced
2 blood oranges, remove skin & pith, sliced into 1/8 thick disks
1 oro blanco grapefruit, remove skin & pith, sliced into 1/8 thick disks
1 cocktail grapefruit, remove skin & pith, sliced into 1/8 thick disks
1 cara cara or navel orange, remove skin & pith, sliced into 1/8 thick disks
⅓ cup marcona almonds
1 endive, washed, spears separated. white end trimmed
1/3 cup feta cheese, crumbled
¼ cup red onion, thinly sliced
1 Thai bird chile, seeded & minced (optional)

Vinaigrette:

1 tablespoons shallot, minced
1 thai chile (optional), seeded & minced
3 TBSP orange juice, fresh
2 TBSP lemon juice, fresh
2 TBSP red wine vinegar (*also works well with white or sherry vinegar)
3 TBSP olive oil, extra virgin
1 tsp almond oil (*optional)
½ tsp sugar
½ tsp salt
Instructions
BEETS...

Preheat oven to 400 degrees.
Place beets in a baking dish with garlic cloves and thyme (aromatics).
Add 1/2 cup of water for steam. Sprinkle beets with salt and pepper and a drizzle of olive oil.
Cover dish with foil. Bake for approx 40 minutes until tender.
Check doneness with a knife. When beets are done, allow to cool slightly.
With a paper towel, gently rub off skin. I like to use food grade gloves to not stain hands. (I find them at my local Smart & Final stores).
While still warm quarter and slice beets 1/8 in thick.
In a medium sized bowl, drizzle a little vinaigrette onto beets to lightly coat. Set aside in fridge.

VINAIGRETTE:

In a small bowl, whisk together shallots, chile, citrus juices, vinegar, sugar, and salt. ( If you want to omit the chile pepper, season with a sprinkling of black pepper instead.)
Combine the olive oil and almond oil together in a separate small bowl.
Slowly add a small stream of the oil into the other citrus vinegar mixture, while still whisking so that the mixture emulsifies. Taste and adjust seasonings to your liking. Every brand/type of vinegar has a different acidity and every citrus differs in sweet/sourness. You may need more or less sugar.
Set aside in fridge to let flavors meld for at least 30 minutes.

CITRUS:

You can use any combination of citrus fruits in this salad. There are so many to choose from. I decided on 4 different types: oro blanco grapefruit, cocktail grapefruit, cara cara orange, and blood oranges.
To prep them, cut off a small slice from the tops & bottoms so that you have a nice flat surface to remove the rest of the peel with ease.
Follow the curve along the sides of the citrus, being careful to remove all the white pith- but not too much of the flesh. It's best to use a small serrated knife for this technique.

RED ONION:

Soak thin red onion slices in ice water for 20 min to crisp up. This makes the onion flavor more mild.

ASSEMBLE SALAD:

Arrange endive spears at the bottom of a plate with green tips pointing outward like hands on a clock.
Mix the frisee in a separate bowl with a little vinaigrette dressing to coat. Place a small bunch of frisee on top of the endive.
Arrange beets, citrus, avocado, and red onion on top.
Sprinkle marcona almonds and feta over the salad.
Finish with a drizzle of red wine vinaigrette dressing.
http://www.sugarplumfoodie.com/citrus-beet-avocado-salad/